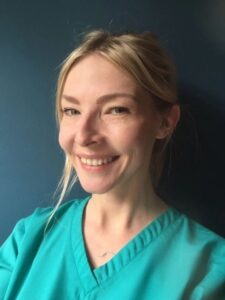 I am experienced treating a wide demographic of clients working in Chiropractic clinics, The Priory Hospital and private practice.
I work remedially to treat target areas of the muscular system where symptoms manifest and cause pain or discomfort, numbness or disconnection.
I am experienced working with anxiety, body image issues, body trauma and abuse as well as postural issues, chronic tension and holding patterns. I have researched the  work  of  Peter  Levine,  Purges,  Rothschild  and  Bessel  van  der  Kolk  to support  my  work.
My combined training has led me to practice psychotherapeutic bodywork – facilitating the natural healing process through touch and movement.
I found Massage therapy in my early twenties. I knew that I needed support but couldn't vocalise what was going on for me. The story I told myself didn't match the deep anxiety and overwhelming sensations that I would feel in my body. Desperately embarrassed to show these feelings, I had become expert at appearing 'fine', looking 'well' and 'confident'. Massage therapy helped me to reconnect to my body, feel safe enough and supported enough to get to know the sensations of anxiety, fear, self-consciousness and work with muscle memory to send new signals and create new possibilities. Slowing down the process and being guided to feel into whats really going on, meeting the fear and letting it pass, has softened the way I relate to myself and made possible a greater sense of ease with which I can navigate the world.
Registered member of SMTO
Qualifications:
Diploma in Therapeutic Massage CHM Scotland 2012
Diploma in Swedish Massage Western School 2018
May 2018 – Emergency First Aid for Therapists and Healthcare Practicioners, Focus Training
Diploma in Sports and Remedial Massage Western School 2019
Cost: £40 for 60 minute treatment. Initial session includes free consultation (10-15 mins)
Click here to book a session! (You will be taken to www.francesmcmillanmassage.com website to send a message directly.)